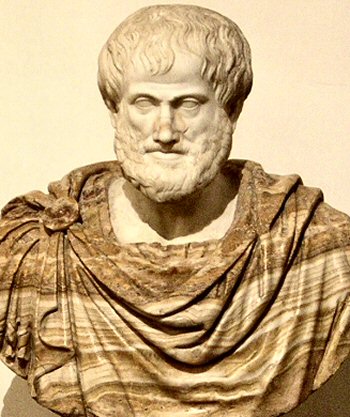 Aristotle believed humans are political creatures by nature. He thinks this is apparent when we see how our speech enables us to relate to one another quite differently than beasts or gods. Politics not only gathers us into communities for defense against foreign powers, but also for using rational speech rather than physical violence to control physical force within the society.
Justice then is a matter of politics. We can discern what it is just by debating what the common good of our society is. We promote this by enacting laws that honor and reward actions appropriate to this purpose. Justice is not based on a neutral government maintaining law and order by settling conflicts between individuals fairly. It rather involves the government cultivating habits that lead to the good character that benefits the community. In other words, justice depends more on education than law enforcement.
Because he felt the chief obstacle to justice is ignorance, Aristotle thought this debate should take place among the learned, those with the ability to do it appropriately. A modern Aristotelian approach might see the whole community engaged in this discussion of the common good. Of course, we have to ask if this is possible in a large, pluralistic society. It might work in his small city-state, in a New England town meeting, or in a profession where goals are shared and evident, but a larger diverse community presents more difficulty. Our present political gridlock in which our officials refuse to converse as Aristotle proposes demonstrates this clearly.
Our present inability to discuss what a common good might be contributes to our resorting continually to the violence justice is supposed to replace. We end up with slogans, such as "the only way to stop a bad person with a gun is a good person with a gun". From Aristotle's perspective that is a response typical of a beast, not a human.
Our inability is also evident in what our society honors and rewards. We often claim the purpose of government is to provide defense and jobs. But we do not seem to reward and honor those who do this. Yes, we have a big defense budget to protect against foreign military aggression, but we fail to defend citizens from internal powers that take advantage of the weak. Powerful corporations seem to control government rather than the other way around. And rather than honor those who provide jobs and products for our citizens, we reward those who play games for profit. This includes not only highly paid athletes, but also financiers who use the stock market not for supporting industry but as a means for gambling and advertisers whose aim is profit rather than providing a product. If we can judge a society by looking at what it rewards and honors, we do not do too well.
Christians ethics are often based on an Aristotelean model. We discuss what is involved in the common good Jesus describes in his pictures of the future Kingdom of God and then honor and reward those actions that lead us to that beloved community in which all have enough. We also appreciate what the ancient philosopher said about language. However, we believe the problem has to do with sin rather than ignorance as can be seen when we use the Tower of Babel story as an illustration of evil. Even though we appreciate Aristotle's work on making ethics relevant to real life rather than abstract reasoning, we think he missed an important aspect of human nature.
Give some thought to what you would consider the common good of our society. What is the picture you have of the community for which we are striving? What would we reward and honor if we all agreed on this purpose?