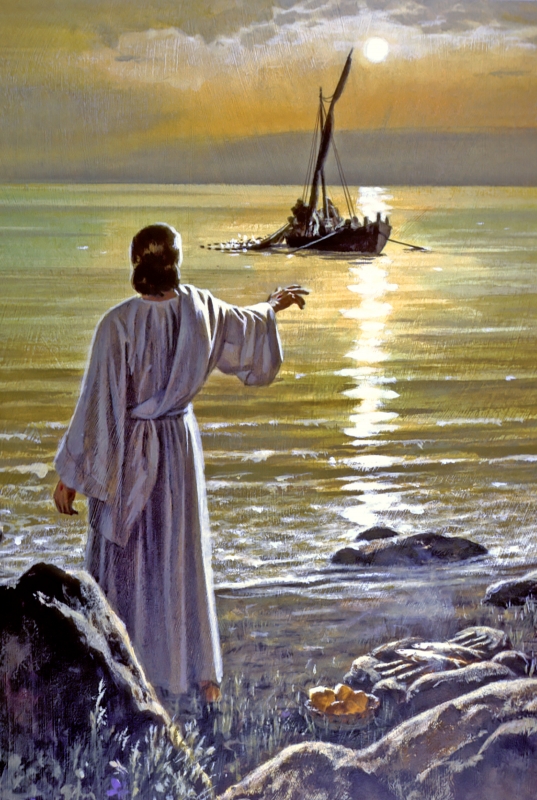 Matthew and Mark report that the message at the empty tomb sends the disciples back to Galilee where Jesus will meet them. Luke's version tells them to remain in Jerusalem. At first, John seems to support Luke, seemingly ending his gospel with chapter 20. But then he continues with a Galilean appearance that offers all sorts of interesting challenges (John 21: 1-14).
Notice how much it resembles the Road to Emmaus appearance (Luke 24: 13-35)? A stranger appears. He opens up new understandings, including deeper insights about the events they shared with Jesus during his lifetime. He teaches better ways to live. He shares a meal. He calls them to follow him.
We usually associate religion with the familiar and lament any changes to the way Christianity is practiced. We yearn for the "good old days" whenever new liturgies, teachings, or ethics are advanced. This lesson reminds us that faith has never involved going backwards. The apostles cannot go back to fishing, their former way of life.
A stranger appears on the shore and helps them relive what they have experienced with their executed friend. They are told once more where to find fish. They are fed once again with food they could not provide for themselves. You can almost hear the murmurs, "Who is this guy?"
And then joy, as they recognize it is Jesus still among them. And once more they realize they are called to a better life as they share the relationship they have found with Jesus and each other.
The story makes clear "following Jesus" is not a quaint, comfortable matter. Jesus takes a walk with Peter, asking three times if he really loves him (John 22: 15-19). This seems a way to show he forgives the apostle's denying his friendship three times. But again this is not an "And they lived happily ever after" moment. John reminds us Peter is martyred for following our Christ.
The Greek verbs show the depth of the commitment involved in following the Resurrected Lord. The Greek word used for "love" in the first two questions refers to a love that brings mutual benefits, a kind of brotherly love. The Greek verb in the third goes quite a bit further, using a word that conveys "unconditional love." The New Testament uses this last when speaking of God's love. We are expected to love as God loves, returning good for evil. Unconditional love could mean literally "taking up our crosses and following Jesus."
All this follows the themes John introduced in his gospel. Jesus is the incarnation of the Living God who comes so we can live out the fullness of our humanity, live as the Image of God in which we were created. Resurrection like all his teachings transforms us, so we can become what we were meant to be.
John's conclusion reminds me of a remark uttered by one of our young adults, who happens to be a Jew. She said, her people have a saying, "They tried to kill us. We survived. Let's eat." I think it conveys the world in which we find ourselves a well as the ordinary and extraordinary in the Christian life available to us.