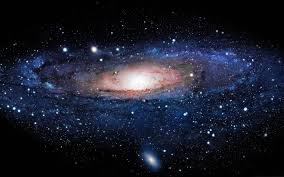 Probably the greatest challenge to Christianity in our day is people's absorption in their jobs, their play, and anything else that allows them to ignore meaningful conversation and profound thought. Close behind is the churches' inadequacy in addressing troubling questions about the suffering of innocents and our relationship to nature. I'll try to deal with the latter in this series of lessons and hope you will continue to share your ideas.
Many months ago, Lupe brought up a good first question. She mused about what the vastness of the universe, that seems to run on its own, says about our understanding of God and his relations with us earthbound humans. We now know there are at least 100 billion galaxies out there, each with approximately 100 billion stars. Yet most of the theology the common person hears is radically human-centered, as if we were the only ones with whom God is concerned.
That leads to questions from evolution that picture the cosmos developing from matter to life to mind over a tremendous time period. Scholars now believe the Big Bang took place about 13.7 billion years ago. Carl Sagan used to illustrate what this means by placing the process on a one-year calendar in which homo sapiens appear one minute before midnight on December 31. Yet, polls report most Americans still insist God created the world in 6 days with each species fully developed.
Of course, evolution raises even further questions when it describes a process of death and extinction in which survival depends on fitness and chance. This violent picture threatens the Christian understanding of a loving God benevolently caring for his creation.
Another challenge has to do with the effects of technology that have tremendously changed our concept of what is natural. Just about every one of us depends upon modern technology to supply what we need. Without thinking, we use its devices and techniques to solve our problems. We have no idea what a natural birth, a natural death, or a natural anything means in this technological society. Yet churches divide the Body of Christ over controversies about what is natural in human sexuality, contraception, dying, fertilization, abortion, research, and on and on. Modern medicine is confronted with many more ethical issues, such as genetic engineering and cosmetic surgery.
And perhaps the most critical challenge is climate change. The natural process of evolution is being threatened by humans' use of technology. Not that long ago, 1 species of plants or animals went extinct every year. Now 150 to 200 die out in one day. Scholars estimate mammals are going extinct 45 times faster than they did before 1600. Again Christians are deeply divided. Pope Francis' first sermon included powerful words about protecting the creation. We expect to hear the same message in his upcoming encyclical. At the same time, people claiming to speak for Christ scream, "God gave you the earth. Use it! Rape it! It's yours." They see no reason to care for the creation, as they think the Bible claims God will destroy it when he saves humans.
Most of these questions are addressed in the Bible. Remember the Bible presents a number of different traditions or perspectives on human problems, often side by side. Modern Fundamentalists are not really presenting the one and only biblical position, but rather the one they find congenial to their purposes. One of the things I'll try to do is highlight the other traditions that are helpful for understanding our relationship with the natural world.
(The statistics I cite are found in Elizabeth Johnson's, Ask the Beasts: Darwin and the God of Love)