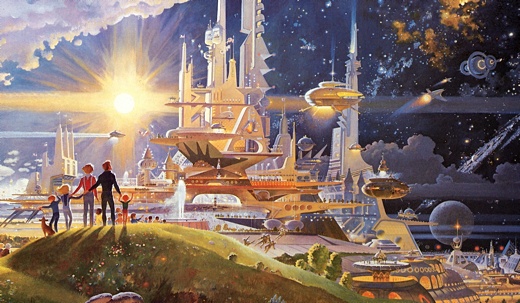 Franz and I intentionally used the term "vision of the future" for hope's promise. Nonetheless, my discussion groups frequently characterized it as utopian. An online conversation with Paul about what he calls techno-utopian-drift, or TUD, convinced me to examine further society's growing dependence on technology. Both of us believe it is important that society makes decisions about appropriate technologies so it does not end up controlling us, and we think this is not happening for a variety of reasons.
His concept of TUD offers a good explanation. It presents a steady drift towards what he calls the TransHuman. He points to the speed and power of modern technology "creating its own ethics as it sort of digs its own path as it goes along." Franz and I see this ethic as measurable efficiency that bypasses any ethical or humanistic issues. All three of us agree the drift will continue without any control unless we engage it with moral and humane concerns.
Remember utopia, like eugenics, begins with a search for the good life. However, that is always based on one's story. A Christian utopia would feature peace, justice, and love; a Nazi utopia, an Aryan nation; a Marxist utopia, a classless society, etc. Problematic, too, is the way laid out to get there. The Nazis exterminate the Jews, the Marxists set up a dictatorship of the people, and some Christians impose their views on the rest of society.
Traditionally, people thought human nature or sin was a primary factor standing in the way of achieving these utopia. The techno-utopia toward which we are drifting claims to bypass human nature. It promises a time when every person can pursue their own version of happiness, because huge computer data banks will use algorithms to examine all possible consequences of our actions. These will also be able to resolve fairly and without bias any conflict of interest that arises. Universal surveillance will dissuade those opposing the direction of the impartial machines from acting out and will easily apprehend them if they do.
Everyone in my discussion groups recognized the drift, although some characterized it as a rush. Maybe half thought the problem lay in technology controlling humans. They pointed to examples such as computers teaching themselves, the speed of machines buying stocks precluding human action, the cost of research forcing a project forward, the need to respond immediately to crises in a nuclear age, and that sort of thing. They worried about computers being able to think but not having human wisdom or compassion.
The other half felt the problem was the humans using technology to control the rest of us. They felt someone always had to program a computer, and used the old "garbage in, garbage out" argument. They worried about who was using the power and speed of technology to exploit others, who were supposedly benevolent dictators of our day. They certainly are not the philosophers in Plato's Republic.
Both groups agreed with Paul that deep conversation about the decisions that should be made by the people was essential in either case. It is the conversation, not the analysis, that is essential. Paul and I invite the rest of you to throw in your observations. How to you see the techno-utopian-drift?